cherrybina
HEY YOU GUYS. I'm sorry for basically being MIA the past couple days. I have been having a bit of a weird week, and I'm feeling kind of stressed and headachey and wrung out and basically flopping all over the place like a limp noodle.
KINDA LIKE THIS.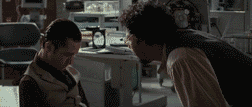 Basically, OUCH. THAT IS WHAT I AM SAYING TO YOU. But I am here! Because I need some awesome right now.
I am not going to make a serious attempt to catch up all of things I missed this week, but one thing I have to mention is that
Bradley M-stands-for-ridiculous James has a twitter
, which he photographically verified for us the other day.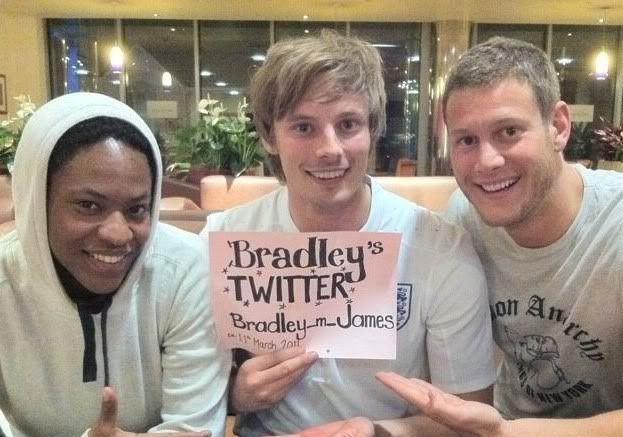 Okay, so my reaction to this? sldkgjdslj I LOVE THEM OH MY GOD. Seriously, I could not stop laughing every time I looked at it again. Their faces, you guys. THEIR WEE ADORABLE AND RIDICULOUS FACES. I CAN'T EVEN. SO MUCH LOVE ♥
What have we learned from Bradley's twitter, besides the obvious fact that he is a giant dork? Well, he signs his tweets
much loveness x
, and
he and the knights are in fact kinda gay
, and that
yes, he really does have big fingers
. HE SAID IT OKAY. I CANNOT BE HELD RESPONSIBLE FOR WHERE MY HEAD GOES WITH THAT.
I still have things wot I want to say about the
poll from last week
(mostly about cardigans because WHAT EVEN HAPPENED THERE IDEK) but right now, I just want to say that dimples gave emofaces a pretty thorough smackdown, and I am quite pleased about this.
HOW CAN I STAY NOODLEY WHEN BB DIMPLEFACE EXISTS? It is hard to tell, but I
think
that is a sweater vest as opposed to a waistcoat he's wearing. In any case, this my friends, is how casual clothing works.
Since this entry has no theme other than THINGS THAT ARE AWESOME how about Tom Hardy with his wee bb?
Seriously, you guys. I am physically incapable of resisting men being all cute with their kids. It is like instant puddle making, which okay, maybe not the best thing on a noodley day, but this is the good kind of puddle. A PUDDLE OF AWESOME IF YOU WILL. I'm pretty sure that's a baby carrier that he's wearing. So he can walk around. With his baby strapped to his chest sldgjsldhjdsl I AM DEAD OKAY ♥
ALSO.
♥ multi-fandom round robin fic-a-thon ♥
This is a great way to break out of a fic slump, since you only need to write a paragraph or so, and then it's someone else's turn. There are already two Inception prompts that I am eagerly hoping get filled:
this sort-of NSFW gif
and also
this DEFINITELY NSFW pic
. PORNY WORDS, YOU GUYS. I NEED THEM IN MY LIFE.
And okay. I am still not feeling 100% just yet, so I think I shall just flop down right here. Someone catch me? Or, you know,
put down some nice soft cushions instead
♥