Ugh, you guys. I am sick :(( All I want to do today is flop around on the couch eating cookies and drinking tea and feeling terribly sorry for myself, but I actually have things I need to get done. TRAGIC. But first I am going to tell you some things that are making today awesome.
1. Avatar: the Last Airbender. I really REALLY want to make a post about this at some point, but every time I try, all that comes out is dlskjglksjglds AANG'S FAAAAAACE ♥ PERHAPS THERE WILL BE MORE ELOQUENCE AT A LATER DATE.
OR MAYBE NOT ksdhglksg AANG'S FAAAAACE ♥
2.
Inception in high-res
. I think this one is pretty self-expanatory :D
3. Girl Scout cookies. Girl Scouts was a huge part of my life when I was growing up. My mom was a troop leader, I sold cookies, I went to camp, etc. I have a lot of amazing memories associated with Girl Scouts, and I've always been proud to be a member of the organization, even more now through this whole
cookie controversy
. If you haven't heard, the short story is that a 7-year-old transgender girl in Colorado tried to join a Girl Scout troop, there was some resistance from the troop leaders, and the Girl Scouts issued this statement:
If a child identifies as a girl and the child's family presents her as a girl, Girl Scouts of Colorado welcomes her as a Girl Scout.
Awesome, right? Well, one girl didn't think so and is trying to start a cookie boycott. The obvious answer to this is to BUY MORE COOKIES. Taking a stand for a cause has never tasted so delicious. I HAVE ALREADY BOUGHT SO MANY BOXES YOU GUYS.
4. Tom Hardy's perfectly shaped head.
The release date for This Means War
has been moved up to February 14
, which means we get to see the blue shirt of perfection three days earlier than we thought.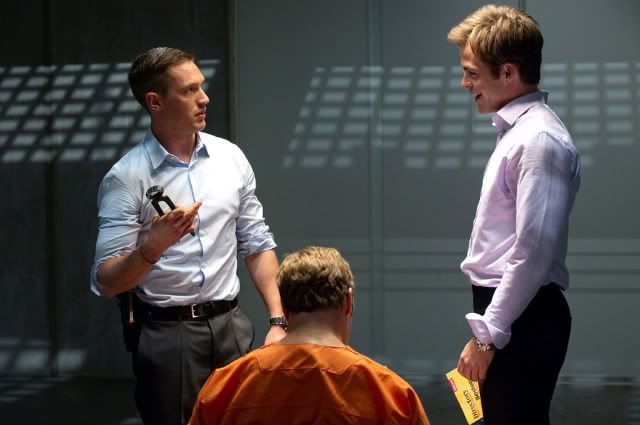 I MIGHT ACTUALLY DIE.
Being sick is no fun :( Pls send porn and pretty boys because I require them for healing purposes :D