cherrybina
So, I have no idea how I am going to survive an RPF fandom that has new canon EVERY FREAKING DAY BECAUSE OH MY GOD HARRY AND LOUIS ARE KILLING ME. SERIOUSLY. All of this has been all over twitter and tumblr the past few days, and if you have missed it, well. SORRY ABOUT YOUR LIFE. This is a very brief recap that does not even begin to do the ridiculous antics of these two absolute fools justice.
OKAY. There was an interview the other day in which this happened, and I basically died right there on the spot.
HELP HELP.
HELP
.
First, let me say that this interviewer is the biggest fangirl ever and I love her. But anyway, the boys talked about graphic fanfic, and Harry made some snarky comment about 15-year-olds writing porn, which lolol HARRY I AM SORRY BUT YOU DO NOT GET TO JUDGE BECAUSE WE ALL KNOW WHAT YOU WERE DOING TWO YEARS AGO WITH LOUIS.
WHEN YOU WERE SIXTEEN
. But my favorite part is how he seems really determined to get the interviewer to confirm that girls are into watching two dudes make out, but he isn't like shocked or disgusted about it. And when she is like OH YEAH he does this: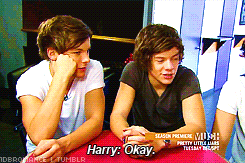 lsdkjglsgdj jfc his smug little smile. Do not even try to tell me that this is not what happened right after the cameras stopped rolling:
Harry
: I TOLD YOU CHICKS ARE INTO THAT NOW PLS CAN WE MAKE OUT IN FRONT OF THE WHOLE WORLD LIKE I HAVE BEEN SAYING????
And then a couple days ago, Harry got a little creative with the lyrics while he was onstage.
It starts right at the beginning when he sings, "give you this, give you that, blow a kiss, blow a job," which is supposed to be, "blow a kiss, take it back." And then at 0:15 he changes, "you can be preoccupied, different date every night," to "different dick every night." HARRY STYLES WHAT ARE YOU EVEN DOING. FOR REAL.
Whatever it is, he is just so adorably proud of himself.
"DID YOU SEE HIS FACE?!" Oh Harry.
And then. AND THEN. At last night's concert, Zayn and Liam ripped Harry's shirt open while he was singing.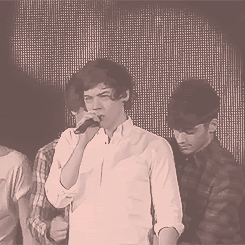 THAT SOUND YOU HEARD WAS A MILLION FANGIRLS EXPIRING ON THE SPOT. Harry is shocked for approximately .00003 seconds, and then he starts GRINNING AT LOUIS WHILE STROKING HIS TUMMY SUGGESTIVELY. BECAUSE HE IS HARRY STYLES. AND THAT IS WHAT HE DOES.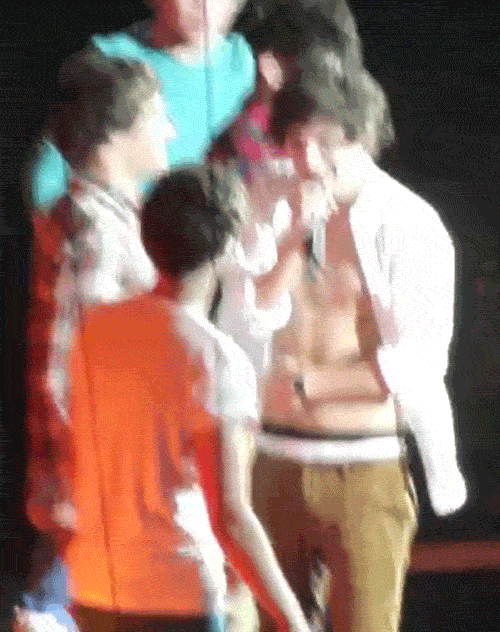 Also, there was maybe-kissing???!!!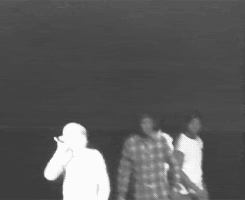 And the exchanging of the "secret" (lol) thumbs-up of true love?????!!!!!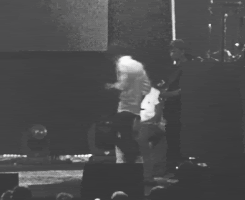 WHO THE ACTUAL FUCK EVEN KNOWS AT THIS POINT WITH THESE TWO.
AND THEN
. So, right before I went to bed last night, I tweeted that someone should tweet me if Harry gave Louis a blowjob on stage, because seriously. THAT IS THE NEXT LOGICAL STEP. I woke up this morning to a series of @replies that were like SO REMEMBER WHEN YOU SAID TWEET YOU IF THERE WERE BLOWJOBS?????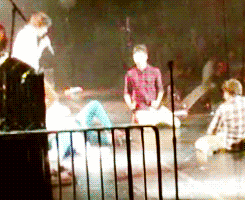 .........no, like what. WHAT. I love how Harry
walks all the way around
to make sure Louis goes face first into his crotch. BECAUSE HE IS THOUGHTFUL AND CONSIDERATE WITH RESPECT TO HIS BOYFRIEND'S FEELINGS ABOUT HIS COCK. EVEN IN FRONT OF TENS OF THOUSANDS OF PEOPLE.
HARRY STYLES. YOU ARE A TROLL WITH THE FACE OF AN ANGEL.
CONGRATULATIONS ON YOUR EVERYTHING.
lsdfkghjsdlfs
YOU GUYS
. This is not even everything that happened in the past few days, so feel free to share anything I've left out in the comments. I AM STUCK IN CAPSLOCK AND HAVE BEEN FOR DAYS. BUT OH MY FUCKING WHAT ARE THEY EVEN DOING. SERIOUSLY. THERE IS ONLY ONE DIRECTION THEY CAN GO AND THAT IS IN EACH OTHER'S PANTS. AND NOW I NEED TO GO LIE DOWN.
I've posted basically all of this stuff to
my tumblr
with credit for vids/gifs.