cherrybina
YOU GUYS. HEY. I have like 4754839576 things I want to post about, including Inception stuff(!!), my many feelings about Korra, three different posts about AtLA that I've been thinking about for months, my WHY WHIP IT IS THE BEST MOVIE EVER feelings, and also many other extremely deep and meaningful thoughts about highly important topics. But I am sorry, I have none of those things for you today, because, well. My life has been derailed by pretty boys and grad school, and now that my summer class is over, I've got nothing left to do but squee my heart out YAY \o/
But first I would like to tell you this awesome story! I have an 11-year-old niece who is one of the greatest people on the entire planet. Anyway, she has gone quite mad for One Direction. KIDS THESE DAYS. HONESTLY. Niall is her favorite, and she is sort of shipping Harry and Louis without even knowing what that means, and I've overheard her and her bff cooing over pics of Liam and Zayn being all cuddly and adorable. She watches a lot of videos on YouTube, and I knew she was thisclose to discovering fandom. AND THEN SHE DID. She saw a couple fanvids, and then. AND THEN. I was talking to her and she was like, "omg, I am reading this story and it is so good! It's called fanfiction?" And I was just like SKFLHJSLHJS;HJSHS;!!!!!!!!!!!!!!!! I really want to find the story because it sounds
amazing
. Basically it is this self-insert fic in which a girl is dating Zayn, and she also gives Liam dating advice, I think? She tries to teach Zayn how to swim, but he cuts his head or something? Idk. But then she kisses Harry and is is all like ~DRAMA. It's a WIP so Idk how this will turn out, but it sounds hilarious and adorable, and just about the most perfect first fic, and I am so, so delighted for her ♥
Speaking of life ruiners, I always lol when people are like, they are just playing around for the cameras because it's what the fans want! Because
seriously
. Harry is touching Louis's thigh and giving him the "secret" (lol) thumbs-up when he thinks no one else can see, and I just lksfjlkfdsgjsfdl CAN'T EVEN WITH THEM.
OKAY. I saved this for last because I did not want to kill you all dead right at the beginning of the post. I was weeping helplessly all over the place on twitter last night, but as usual, I am so not even close to being done. When asked about their favorite Ed Sheeran songs,
both Harry and Louis chose Kiss Me
. It's a song about falling in love with your best friend, and you can hear Ed talk more about that
here
. Specifically he says, "if anyone... has fallen in love with their best friend and told them, haven't told them, now is probably the best time to tell them." SO. YEAH.
Anyway, here's the song. PLEASE BRING A BUCKET FOR YOUR TEARS AND FEELINGS AND KNOW THAT I AM IN NO WAY RESPONSIBLE FOR ANY HEADS EXPLODING DUE TO OVERLOAD OF EMOTIONS.
This looks like falling in love.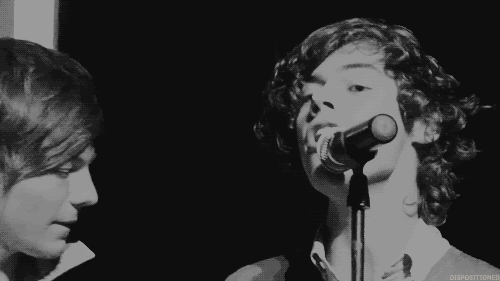 They're falling in love.




♥♥♥