cherrybina
Okay so. TEEN WOLF. If you follow me on twitter or tumblr, you have seen me capslocking and keysmashing all over the place, and I just really wanted to make sure I covered all platforms with squee because THIS SHOW.
THIS CAST
. SERIOUSLY.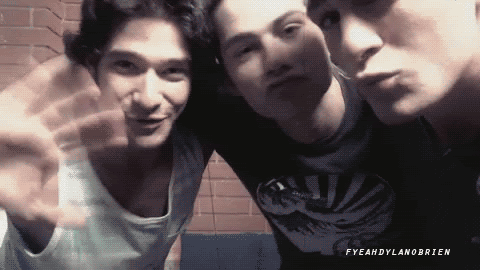 I feel like basically everyone ever is already watching this show, but in case you are not, I will tell you why I totally think you should! For starters, I will say that Teen Wolf reminds me of Buffy in a lot of ways. THIS IS A GOOD SIGN AS BUFFY IS THE SHOW OF MY HEART AND SOUL. Well, a good sign for me anyway, haha. But what I mean is that it starts off kind of ridiculously cheesy, and you will totally be rolling your eyes all over the place, but somewhere along the way it gets legitimately good. And not like, good for Teen Wolf. Just
good
good. I feel like
this
is the most accurate description of the characters you will ever find, and tells you all you need to know about them, but I am totally going to tell you about my favorites anyway :D
Stiles.
If you have witnessed any of the flail for Teen Wolf you've probably heard of Stiles because EVERYONE LOVES HIM. There is a very good reason for this! My Stiles feels went roughly something like this:
1. Haha, awww Stiles ♥
2. sldkghdsl okay Stiles is definitely my favorite :D :D
3. HELP HELP WHAT DO I DO WITH ALL THESE STILES FEELS HELLLLP *weeping forever*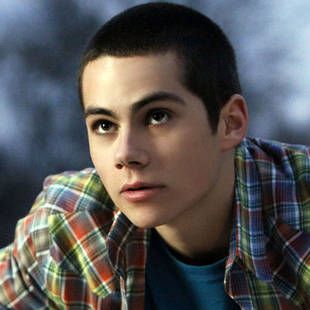 Seriously, though. STILES ♥
Lydia.
A lot of people seem to find Lydia annoying at first? BUT WHATEVER SHE IS AWESOME AND I LOVE HER.
There's a scene where Stiles tells her maybe someday she'll win the Nobel prize in mathematics, and just as I opened my mouth to shout at the screen THERE IS NO NOBEL PRIZE IN MATHEMATICS
LYDIA SAID EXACTLY THAT
. AND THEN SHE SAID SHE IS GOING TO WIN THE FIELDS MEDAL. WHICH FUCK YES SHE IS. Clearly Lydia and I are mfeo ♥
If I was going to talk about all the characters I'd totally go with Derek next, but as I am already losing control of this entry, I will just say that he is a werewolf who lurks in the shadows like a creepy creeper. Also he does this.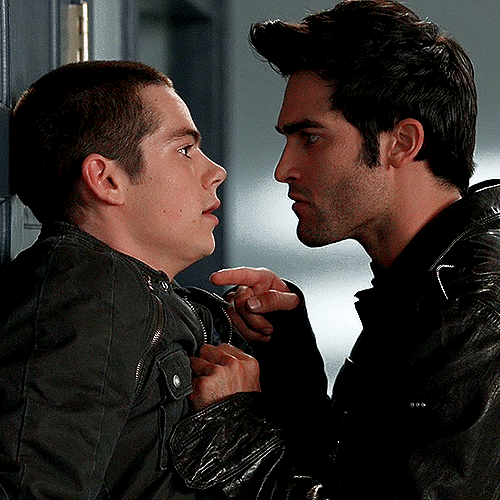 BY THE WAY DEREK IS TOTALLY STILES'S BOYFRIEND. IN CASE THAT WAS NOT CLEAR.
Now not only is the show lots of fun, but the cast is actualfax ridiculous. And if there is one thing I cannot resist, it ridiculous people. Observe Tyler Hoechlin and Dylan O'Brien, the real person counterparts to Derek and Stiles.
Tyler tweeted this pic from their trip to San Diego for Comic-Con, and the fandom promptly exploded with glee. BECAUSE SERIOUSLY ♥
Also Colton Haynes.
I believe this pic is also from San Diego, and he is... WELL I HAVE NO IDEA REALLY BUT IT SURE DOES LOOK AWESOME. Also!
Sometimes he kisses other boys and posts the pics on the internet
!
AND THEN sldkfjhsdfl oh my god. And then
this happened
, and I just. I CANNOT OKAY I SIMPLY CANNOT.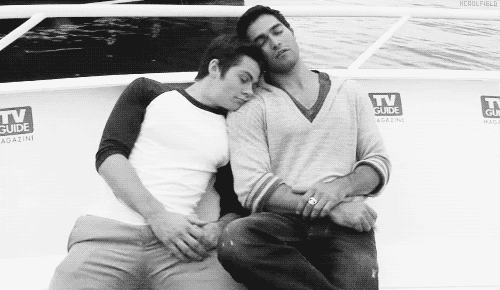 Anyway,

cobweb_diamond
said it better than I ever will
, but this totally feels like a shoutout to the Derek/Stiles fans and not the kind of HAHA JUST KIDDING NO HOMO queer baiting that happens all too often.
BUT JUST WAIT THERE IS MORE.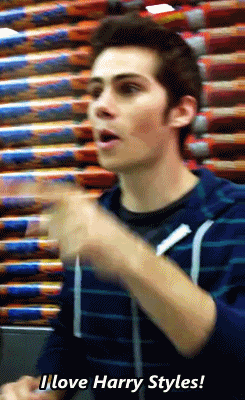 No, like that
actually happened
dfklghfdlkhdl I DON'T EVEN KNOW YOU GUYS. LIKE WHAT IS THIS FANDOM.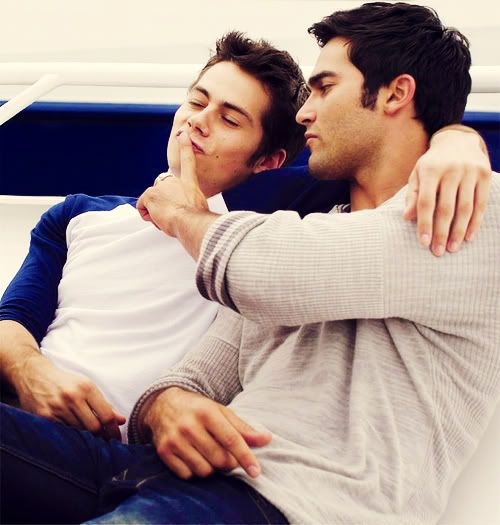 AND HOW WILL WE EVER SURVIVE?