cherrybina
Okay so, Harry Styles got a new tattoo on his wrist that says
I CAN'T CHANGE
. Harry bb. WHAT ARE YOU EVEN DOING. ALSO YOUR FACE.
I honestly don't even know what to do with him anymore. Except weep.
In other news, can we please take a moment to discuss Teen Wolf RPF? And by discuss I mean WHY ISN'T THERE SO MUCH OF IT OH MY GOD LOOK AT THEM.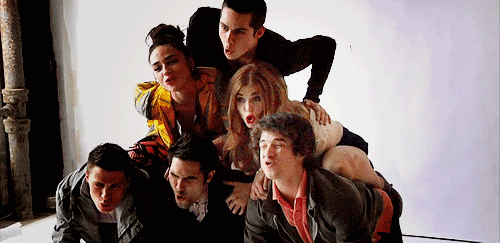 I mean,
there is some
, but seriously, they are hilarious and adorable, and I would read every single combination of their ridiculous faces.
Speaking of ridiculous, Dylan O'Brien is a drummer in a band. This is a thing I knew. WHAT I DIDN'T KNOW IS THAT HE PLAYS THE DRUMS
WHILE SHIRTLESS
IN HIS BAND'S VIDEO.
lkdfgljgd YOU GUYS.
WHY DID NO ONE TELL ME
??? THIS IS THE KIND OF INFORMATION I NEED TO HAVE. I would like to kindly request that all of you report any and all Dylan O'Brien shirtlessness to me asap please and thank you :D
In conclusion.
s;djhfsd;hsj FUCK MY ACTUAL LIFE. THE END.