Okay so LJ. WHAT EVEN. Now that's out of the way, let's talk about awesome things, shall we? Such as TOM HARDY.
IN A SUPERMAN T-SHIRT sdlfkjgdflkhjfdl
Apparently that pic was shopped and I am so bereft with no new filming pics that I FLAILED ALL OVER THE PLACE at the hint of something new *sob sob sob* Here, have this one instead, which is tiny and only shows the top of his head, BUT STILL. TOM HARDY.
Apparently this was on the set of The Wettest County? Idk, but it certainly looks like it. His face, you guys. HIS FAAAAAACE I LOVE IT ♥
( Speaking of which, TOM HARDY COVERED IN (FAKE) BLOOD) )
And because yesterday I got yelled at for not including JGL, here is wee bb dimpleface look all sorts of delicious.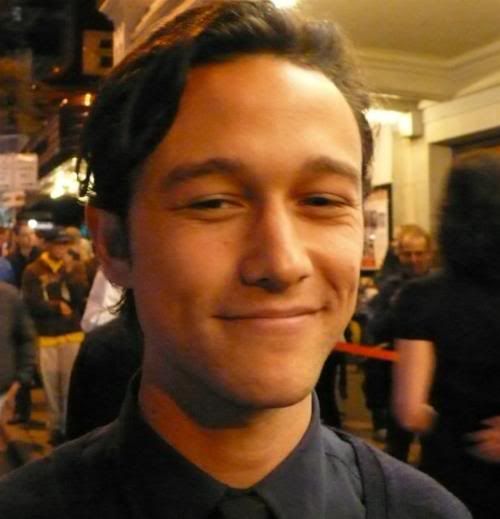 Hi bb hi hiiiii. Look at him wearing a sweater over a buttondown. SUCH A GOOD BOY ♥
Also! Today while LJ was down, I attempted to break my crushing writer's block with twitfic, which was actually a ridiculous amount of fun. And just to show you how unreasonably happy I am that I wrote some words, I'm going to share this ridiculousness with you. IT'S JUST THAT IT'S BEEN A REALLY LONG TIME SINCE I'VE WRITTEN ANYTHING YOU SEE.
Arthur/Eames
:
1. "Those are Gucci yoga pants," Arthur frowned. "Hush darling," Eames said as he tossed the pants aside, "and show me how far you can bend."
2. After years of dancing around, Arthur finally pushes Eames against the wall. He traces his thumb over Eames' lower lip. "Kiss me," he says.
3. Eames pushes his fingers in where Arthur is all wet & open & slick with his come. "You like that?" Eames asks. Arthur moans & begs for more.
4. "Your arse looks exquisite in your impeccably tailored Italian wool trousers," Eames says. "Thanks", Arthur says. "Now shut up and fuck me."
5. "This one." Arthur holds a tie up to Eames' neck. Eames scowls. "I'll let you tie me up with it," Arthur says. "I'll take two," Eames grins.
6. Eames rubs slick fingers where Arthur is stretched tight around his cock before pushing one in. "You're so pretty when you take it for me."
7. "This is appalling," Arthur says, holding up a photo. "I was 19," Eames starts, then notices the heated look in Arthur's eyes. "Oh, Arthur."
Merlin/Arthur
:
1. "You look hot,"Merlin says, touching Arthur's new glasses. "You always say that," Arthur tells him. "Because it's always true." Merlin says.
2. Arthur pushes Merlin back and pins his hands above his head. "What do I win?" Merlin asks breathlessly. "Anything you want," Arthur replies.
3. "Magic?" Arthur frowns. Merlin waits, frozen on the edge of the moment until Arthur steps close and smiles. "Show me," he says. Merlin does.
I know I know but THEY ARE WORDS. THAT I WROTE. This is kind of a big deal for me right now, and I'm taking my victories where I can find them SO THERE :D
In other news, I am in fact going to switch my default user icon. MAYBE.

derryere
is working on it. Until then SOMEONE HOLD ME D: D: D: