1. Okay, so first of all, the age question in
yesterday's poll
was in response to comments I've seen where people have called Tom Hardy old. Results show that 19 of you think that yes, he is. WTF WTF HOW IS THAT OLD D: BUT WHATEVER. I CAN ONLY HOPE I LOOK THIS HOT WHEN I'M 33.
( THIS IS NOT OLD OKAY )
2. In other poll news, I was delighted to see how close the numbers were for the question about Arthur's ass, because really, I just want to do alllll the things to it I MEAN HELLO. But the winner by a small margin was
kisses
. ARTHUR'S ASS NEEDS MORE
KISSES
♥ Now I want fic with Arthur and Eames having a lazy weekend morning in bed. Arthur's face is mashed in the pillow and Eames is still half asleep himself, but Arthur's all warm and snuggly beside him, and of course he cannot resist pressing soft kisses all over Arthur's delightful bottom, which makes Arthur shift around and make soft little noises into the pillow because it kind of tickles but mostly it feels
amazing
. Obviously this will lead to porn, at which point there are many options Eames can pick and choose from, all of which were quite popular in the poll. OR YOU KNOW ALL OF THE ABOVE BECAUSE EAMES ALSO WANTS TO DO ALL THE THINGS TO ARTHUR'S ASS.
3. Let's talk about Tom Hardy again, yes? YES. I've been lamenting the fact that filming for This Means War is over, and that means no more daily pics, but the bright side is that we get three new movies with him in 2011. THREE MOVIES YOU GUYS. That means lots of interviews and articles and pictures and opportunities for Tom to be ridiculous and awesome and stupidly gorgeous. To that I can only say YAY \o/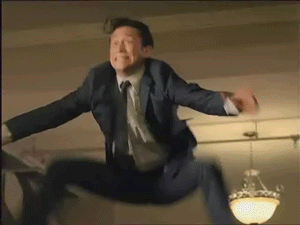 4. I have been so consumed with Inception and Merlin during the past few months that I haven't been paying much attention to Adam Lambert, but last night

ruby_fruit
tweeted a link to him on stage giving a demonstration on how to jack off. So, you know, business as usual for Adam.
( WHAT IS THIS EVEN )
5. So, Hawaii Five-0. I have to say, it looks kinda fun. I'm sort of terrified of the idea of a new fandom because I FOR REAL DO NOT HAVE TIME IN MY LIFE FOR ANY MORE FLAIL AND BOYS AND FIC JFC but if there is one thing I cannot resist it is the combination of porn and pretty boys, which my flist keeps insisting on pointing out to me. Honestly, I don't even know why I'm resisting as I seem to be getting quadruple teamed here. First

leupagus
sat me down on her couch and showed me the ridiculous boylove, then

lamardeuse
started posting pretty pics all over the place, then

hermette
started sending me links to porn, and now

foxxcub
may be writing a Hawaii Five-0/Inception crossover high school AU involving fake boyfriends and emotionally stunted declarations of love or something and sldkjgslk LIKE I HAVE ANY DEFENSES AGAINST THAT. So, yeah. You can probably expect upcoming posts in which I flail about in a ridiculous fashion all like slfgjfsljl SO WHERE CAN I FIND FELCHING IN THIS FANDOM?
HEY GUYS HEY. I hope your day is awesome ♥