Oh, you guys. I am feeling ridiculously nostalgic for the early days of Merlin fandom right now. I don't mean I want to go back, because as far as I'm concerned, fandom only gets better when there is more of everything (with the exception of wank, of course.) I just think that the shiny newness of Inception is reminding me of when I had that same feeling about Merlin. And there really is nothing like the joy of falling hard for a new ship, is there?
I flung myself face first on the M/A train right at
do you know how to walk on your knees
, but The Poisoned Chalice is what knocked me down so hard I couldn't see anything but their perfect shiny love. I remember I sat there going WAIT WHAT. WHAAAAAT.
( OH MY GOD THESE BOYS )
Anyway, speaking of old school Merlin,

hermette
posted about people sometimes saying that they're nervous or shy or intimidated by the fandom. I've had people express the same feelings to me, and
you guys
. THAT MAKES ME SO SAD. I realize that not everyone wants to participate in fandom the same way, and if lurking is what you want, then by all means, lurk away. But if there are people who want to play but are afraid for whatever reason, then I go all sadface, because fandom only gets better when there is
more
. And when people say they are intimidated by me I am just like HAHA WHAT. Because, really. I AM ACTUALLY THIS RIDICULOUS FOR REAL. PEOPLE WHO HAVE MET ME PLEASE CHIME IN AND CONFIRM.
I've been in Merlin fandom for almost two years now. Some of my friendships here go back that far, and so I totally get how it can feel hard to jump into something that seems so established, but I can only promise you that every single one of you is welcome to join in at any time on any post. I love capslocky squee and I love meeting new people and I love completely random comments and I LOVE LOVE LOVE hearing that people are just discovering the joy that is Merlin fandom, because it reminds me of when I was there too, with so many hearts in my eyeballs for pretty boys risking everything for each other because they are ridiculously painfully in love ♥♥♥
Before I go all weepy with love for Merlin fandom, I have one more pretty boy to talk about. Yesterday I posted
pics of JGL in sweatpants, a windbreaker, and a baseball cap
, so I think that means we could all stand to see that boy in a suit right about now.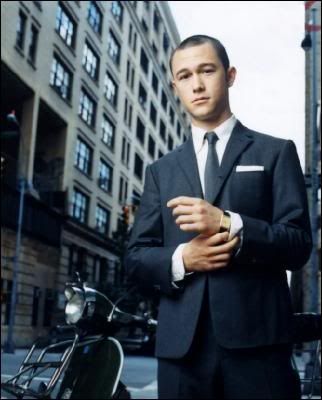 ( Yes, that's much better )