1. Last night, I was
tag team incepted
by

meiface
and

weatherfront
to write the JGL/T-Hard/
Earl
threesome that I've been talking about. Which, I was already planning anyway, and even have it started, but now it seems to have moved up on the list? But in what was possibly the best part of the entire night for me is when

weatherfront
suggested a
fic in which Earl is Arthur's totem
. YOU
GUYS
. I CANNOT EVEN.
Eames:
Are we dreaming? I think we're dreaming.
Arthur:
Check your totem.
Eames:
Oh, but it's much more enjoyable for both of us when you're the one to do it.
Arthur:
Where's the lube?
Eames:
Right here in my pocket. You know I never go anywhere without it, darling. Would you like a hand with that?
2. I think I have figured out the real reason JGL and I will never work out in real life. No, it's not because I'd be forever rolling my eyes at his whole pretentious hipster thing, because I think I could learn to live with it in exchange for his pretty face. And no, it's not because I am secretly a little afraid he dresses better than I do, because I like the idea of a man who would keep me on my toes, plus I would have a blast color coordinating my shoes to his ties. And no, it's not because I'd be the same height as him in four-inch heels, because I'm really okay with that, and I do own
some
three-inch heels. The real reason is that I don't think we could ever work past the fact that I have a non-ironic love for Lady Gaga. I'd be all like, "I'm sorry, why are we doubting her artistic integrity? I DO NOT UNDERSTAND THE QUESTION OKAY." Alas, our love was not meant to be. So that means it will be all dirty sex all the time, which I am really okay with. I MEAN HELLO. EVEN HIS
NIPPLES ARE PRETTY
.
3. Speaking of boys I'd like to sleep with, after the
Tom Hardy/Bradley James showdown
, someone said the reason T-Hard won all the sex questions was because he probably has more sexual experience than Bradley and Colin combined, which... yeah. I can certainly believe that. I mean in all fairness, he has almost ten years on Colin and six or so on Bradley, plus I get the impression that he's significantly sluttier than either one of them. AND I AM SORRY BUT I HAVE A HUGE HUGE WEAKNESS FOR DIRTY TALKING SLUTS. Why does he give off such a I-am-awesome-in-bed-vibe? WHATEVER IT IS IT'S FUCKING HOT.
4. And still more boys I want to have sex with: BRADLEY FUCKING JAMES YOU GUYS.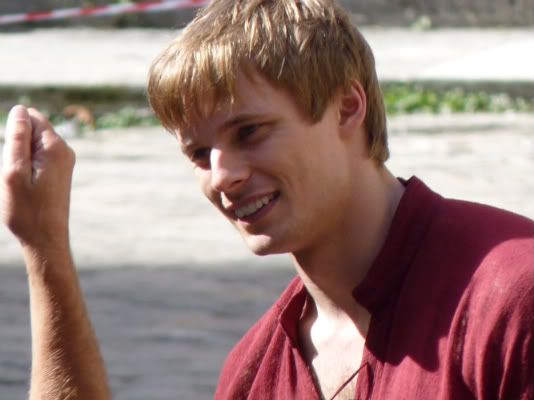 Oh my dear sweet baby Jesus, look at the way that boy glows. HIS HAIR. I JUST. You guys
know how I feel about the hair
. Though, why is it so short? IT NEEDS TO BE LONGER, SO IT CURLS JUST SO OVER HIS EARS AND NECK.
( How is he so pretty someone tell me )