OKAY HI.
FIRST OF ALL: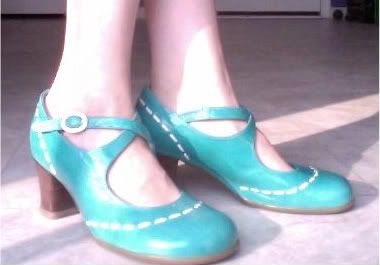 ASDFGHJ OMG I LOVE THEM. Sorry about my freakishly glowing legs, but I was trying to capture the color in the natural light. I HOPE I HAVE NOT BLINDED ANYONE D: So, yes. I have been lusting after these shoes for AGES and finally broke down and bought them during the John Fluevog Thinks You're Awesome sale (WHICH IS STILL GOING ON
HERE
BTW) My feet are very very happy. AS IS THE REST OF ME :D
Next! OKAY. So ages and ages ago, there was this meme where people posted three ideas that they thought you'd never write, then you had to pick one and write a snippet.

miakun
thought I'd never write fic in which Arthur and Merlin adopt a kid and go off and have lighthearted adventures. WELL GUESS WHAT, MIA. I've got 3.5K that says you're wrong. Yeah, I don't really know what to say, either. SO I SHALL TAKE A POLL.
[
Poll #1593001
]
What are you guys up to today? Frantically working on pornathon entries? Chipping away at your big bang? Digging up new pics of Bradley and Colin? Other awesome things?