Okay, so JGL is awfully pretty, but YOU GUYS. WHAT THE ACTUAL FUCK IS TOM HARDY DOING TO THAT TOOTHPICK.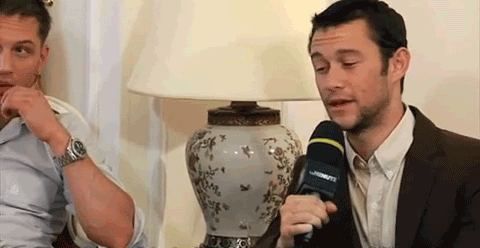 slkgjldkhjgfsd JFC. I CANNOT EVEN. Like, this is actualfax porn right here, I am not even kidding. Last night,

gyzym
was like I AM PRETTY SURE HE IS FUCKING THAT TOOTHPICK WITH HIS MOUTH and just.
YEAH
.
I feel kind of bad for ignoring poor bb dimpleface in that gif, so let us appreciate how very lovely he is in stripes.
Mmmm YES. So pretty, and I love his dedication to fashion even while injured. It's just... TOM HARDY'S MOUTH WHAT EVEN.
OH MY GOD YES PLEASE.
FOREVER
♥
Adventures in cooking was, um. INTERESTING. I managed to fuck up, A LOT, and was mocked mercilessly by

rageprufrock
,

leupagus
, and

summertea
for it. WHICH THANKS FOR THAT YOU GUYS. I AM SO GLAD YOU BELIEVE IN ME :| I forgot things, I lost things, and we are totally not talking about the part when
this happened
, because the point is that the soup was delicious. NO REALLY. My kitchen was a disaster area, but grilled cheese and tomato soup has never tasted so good, and

skellerbvvt
was proud :D Maybe it was the way I delicately seasoned it with my tears?
But in between me shedding 573839576 tears at my own ineptitude, and everyone else cackling in glee as I fucked up YET AGAIN, there was a conversation on twitter that I am now going to share with you. Basically what happened was this: Pru compared my complete and utter fail to what would happen if Arthur was in the kitchen, and I asked if this meant Eames would come in any moment to have his way with me while the soup burned. Pru then bet me ONE MILLION DOLLARS that Arthur would think of the soup while Eames was in the process of trying to bend him over something, while I am of the opinion that Arthur would be all like passing Eames the olive oil if you receive my meaning. I SAY WE LET THE PEOPLE DECIDE :D
[
Poll #1723741
]
HEY YOU GUYS :D